Anti-air battery
Talk

0
4,022pages on
this wiki
Anti-air battery
Unit
Affiliation
Role

Anti-aircraft defense

Armament

Twin 30mm Gatling cannons

Tier

2

Production
Cost

$800

Build time

0:08

Requires
Function
Power

-5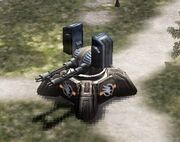 The AA Battery was used by GDI as an anti-aircraft defense during the Third Tiberium War. The AA Battery boasted twin 4 barreled 30mm Gatling guns firing depleted uranium shells at an incredible pace, state-of-the-art fire control systems, and stealth detecting sensors. The sensors were even able to pick up hidden units on the ground, however the AA Battery was not able to fire at ground units despite its ability to aim its weapons at ground level.
While lacking the outright stopping power of a missile, AA Batteries did not have the Nod SAM site's problem of firing dozens of missiles at a single target, firing only as many shells as needed. Their accuracy and fast lock-on was useful against Planetary Assault Carriers, as it could destroy the fighters efficiently.
However, many commanders complained about their lack of effectiveness compared to the Nod SAM site and the Scrin Plasma Missile battery due to its shells lacking stopping power and enemy aircraft blundering into range but easily retreating before any damage could be done. To help rectify this, GDI introduced Tungsten shells as an upgrade for them, significantly increasing their firepower.
It looks like the Red Alert 3 Soviet Flak Cannon