Ad blocker interference detected!
Wikia is a free-to-use site that makes money from advertising. We have a modified experience for viewers using ad blockers

Wikia is not accessible if you've made further modifications. Remove the custom ad blocker rule(s) and the page will load as expected.
"
They're jumping across the chasm!
- Nod Soldier, Tiberium Wars
"
Blink packs

Shock Troopers upgraded with Blink Packs
Upgrade
Affiliation
Research
Cost
Build time
Produced by
Function
Hot key

Ctrl+A

Unlocks

Provide a short-ranged teleportation ability to Shock Troopers
Blink packs are small antenna like devices that allow some high-end Scrin units to teleport short distances across the battlefield. Only a few of these units have been witnessed using this advance technology: Shock Troopers, Masterminds, Prodigies, and Mastermind/Prodigy-upgraded Eradicator Hexapods.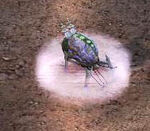 It is also worthy to note that Traveler-59 Shock Troopers and Prodigies seem to come "pre-equipped" with those devices, while regular Scrin forces and Reaper-17 must research it at a Technology Assembler (Stasis Chamber in Kane's Wrath).
Units
Infantry
Vehicles
Aircraft
Structures
Production
Support
Defenses
Support powers & upgrades
Support powers
Upgrades
Both sub-factions (Reaper-17 and Traveler-59) are exclusive to Kane's Wrath