Ceramic armour
Upgrade
Affiliation

ZOCOM

Research
Cost

$1000

Build time

0:30

Produced by
Function
Hot key

Ctrl+S

Unlocks

Upgrades all Orcas, Hammerheads, and Firehawks with Ceramic Armor. Increases armor and hit points.

Notes

Available only for ZOCOM in Kane's Wrath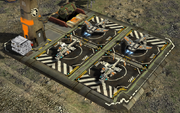 A new plating technique created by the Zone Operations Command for its forces, the Ceramic Armour upgrade greatly increases aircraft survivability. All Orcas and Firehawks outfitted with this upgrade can survive several direct hits from Nod SAM sites.
Both sub-factions (Steel Talons and ZOCOM) are exclusive to Kane's Wrath.