This article is a list of all the music tracks from Command & Conquer: Renegade. They were composed by Frank Klepacki. The name appears first, followed by the length of the track. In parenthesis afterwards are the times when the music plays during the campaign. Renegade's "theme music," while not defined, is most likely "Renegade Jungle" as this plays during the "intro movie."
Renegade
Command & Conquer - 02:58 (Rescue and Retribution)
Got a Present For Ya - 02:21 (Obelisk of Oppression)
Sniper - 03:18 (Evolution of Evil)
Act On Instinct (Remix) - 03:31 (Evolution of Evil - battle with Divine Raveshaw)
Stomp - 02:53 (Tomorrow's Technology Today, cut from Tiberian Sun)
Sneak Attack - 03:47 (All Brains, No Brawn)
Move It - 02:01 (Deadly Reunion)
Dog Fight - 04:39 (The Plot Erupts - battle with Sakura)
Packing Iron - 03:17 (Armored Assault)
Industrial Ambient - 04:00 (Stowaway)
Beach - 02:58 (MP Practice Mode - "Skirmish" & Stomping on Holy Ground)
Fight, Win, Prevail! (Remix) - 03:36
Ammo Clip - 03:18 (The Plot Erupts)
In The Line Of Fire (Remix) - 03:57 (Deadly Reunion - battle with Black Hand assault squads near cathedral)
Unlisted tracks
These tracks did not appear in the soundtrack disc.
Defunkt - 02:43
Great Shot (Remix) - 01:00
Menu Theme (Unused) - 00:59
Menu Theme - 01:33
Mechanical Man's Revenge - 04:36
On Your Feet - 03:53 (The Grip of the Black Hand)
Renegade Jungle - 3:21 (intro movie and several cinematics, such as Havoc demolishing the Nod Tanker)
Sakura Showdown - 04:00
Stop Them Again - 03:55
Level0 Pt1 Music - 00:25 (The Scorpion Hunters)
Level0 Hero - 00:30 (The Scorpion Hunters)
Level0 Tank - 00:51 (The Scorpion Hunters)
Level0 Tiberium - 00:47 (The Scorpion Hunters)
Level0 Nod Base - 00:54 (The Scorpion Hunters)
The track Defunkt, however, appears on Frank Klepacki's album Morphscape.
Soundtrack disc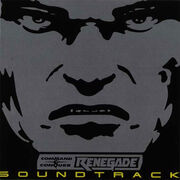 The soundtrack disc was bundled with Renegade and sent to fans who pre-ordered the game directly from Westwood's website.
Ad blocker interference detected!
Wikia is a free-to-use site that makes money from advertising. We have a modified experience for viewers using ad blockers

Wikia is not accessible if you've made further modifications. Remove the custom ad blocker rule(s) and the page will load as expected.