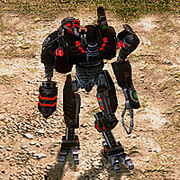 "
I want that.
- Avatar using the ability, Tiberium Wars
"
Commandeer Technology is used for the Avatar in the Third Tiberium War. By using this ability, the Avatar destroys a Nod vehicle and upgrades itself with the vehicle's weapon. It can gain a laser from the Beam Cannon, a stealth detector the Attack Bike, a stealth generator from the Stealth Tank and a flamethrower from a Flame Tank.
Ad blocker interference detected!
Wikia is a free-to-use site that makes money from advertising. We have a modified experience for viewers using ad blockers

Wikia is not accessible if you've made further modifications. Remove the custom ad blocker rule(s) and the page will load as expected.