Daniel Kucan

Daniel Kucan in A Public Fit's Indiegogo pitch, 2014
Biographical information
Gender

Male

Relatives

Joseph D. Kucan (brother)
Michael Kucan (brother)

Political information
Affiliation

Westwood Studios (formerly)
Electronic Arts Los Angeles (formerly)

Game information
Appearances
Role

Actor
Daniel Kucan is an actor that played three GDI characters in Tiberian Sun, Kane's Wrath and Tiberian Twilight. His brother is Joseph D. Kucan, who plays Nod leader and former advisor to Josef Stalin of the Soviet Union, Kane.
Role in the Command & Conquer games
Daniel Kucan played alongside his brother Joseph as Michael McNeil's brother Jake in Tiberian Sun, as well as Joshua Mitchell in Kane's Wrath and an unnamed passer in Tiberian Twilight.
Tiberian Sun
| | |
| --- | --- |
| | The following is based on the Nod campaign for Tiberian Sun and some details might contradict canon. |
Nod attacked Norway to capture Jake McNeil and took him to Kane for interrogation regarding GDI's leadership and targets during the Second Tiberium War. This led to the Philadelphia's destruction by three ICBM missiles at the end of the campaign.
Kane's Wrath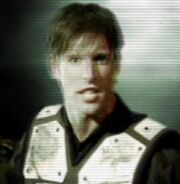 Joshua Mitchell appeared in the What's Rightfully Ours mission, taunting LEGION prior to the battle. Mitchell was a commander of the Steel Talons faction.
Tiberian Twilight
Daniel Kucan appears briefly in the GDI ending of Tiberian Twilight as a passer whom the reporter asks for his opinion on Kane's ascension, to which he says: Kane's gone? Yeah, right! and walks away.
Other games
Daniel Kucan appears as Daniel in Westwood Studios' 1997 Lands of Lore: Guardians of Destiny and as the Fremen soldier Geisel in the 2001 Emperor: Battle for Dune.
Other roles
He appeared in the following movies: Snapshots from a .500 Season (1997), Disaster Video (1999), Circuit (2001) and Circuit (2007). He also appeared in TV series: The New Adventures of Robin Hood (1997), The Strip (2000), Santiara (2002) and The District (2003).
Daniel Kucan was a resident carpenter on the Extreme Makeover: Home Edition show in 2005 and 2006. He also hosted the Desperate Spaces show on Home & Garden TV.
External links
Ad blocker interference detected!
Wikia is a free-to-use site that makes money from advertising. We have a modified experience for viewers using ad blockers

Wikia is not accessible if you've made further modifications. Remove the custom ad blocker rule(s) and the page will load as expected.