Delphi
Biographical information
Gender

Male

Political information
Affiliation
Rank

Agent

Game information
Appearances
Role

GDI informant
Background
He operated towards the end of the First Tiberium War in the ranks of the Brotherhood of Nod in Greece. He was responsible for gaining intel on Kane's biochemical research and pinpointing the location of the facility it took place in. Shortly after he managed to acquire this information, his cover was blown and he had to seek shelter in a nearby village.
Before Nod squads could locate him, he was evacuated by GDI in the nick of time.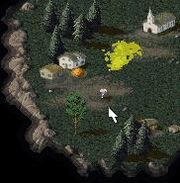 Ad blocker interference detected!
Wikia is a free-to-use site that makes money from advertising. We have a modified experience for viewers using ad blockers

Wikia is not accessible if you've made further modifications. Remove the custom ad blocker rule(s) and the page will load as expected.