Home
Talk

114
4,281pages on
this wiki
Command and Conquer Wiki
---
We are a community that aims to create the best resource for the Command & Conquer series of games. For game-specific content, please select a game portal (all include their respective expansion packs):
---
You may also be interested in our coverage of cancelled games:
Renegade 2, Tiberium, Continuum, Tiberian Incursion, Command & Conquer: Arena, Project Camacho or Command & Conquer (2013).
---
Command & Conquer freeware links:
Tiberian Dawn GDI disc, Tiberian Dawn Nod disc, Red Alert 1 Allied disc, Red Alert 1 Soviet disc, Tiberian Sun package.
Featured article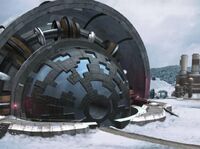 The Chronosphere was a mass teleportation device developed by the Allies during the Second World War. An improved version was used to decisively end the Third World War and was used further until the end of the Psychic Dominator Crisis. Albert Einstein was a notable contributor to the Chronosphere's design. The device could move much more mass spread over a wider area. In addition, the Chrono Vortex and personnel teleportation problems were eliminated. However, it still could not directly teleport infantry.
[add · more]Recent news
Create blog post
News
As you may have heard so far, Command & Conquer (2013) has been officially cancelled. Victory Games staff has been fired and Command & Conquer has an uncertain future.

Since the NDA has been lifted so…

Read more >
See more >