Ad blocker interference detected!
Wikia is a free-to-use site that makes money from advertising. We have a modified experience for viewers using ad blockers

Wikia is not accessible if you've made further modifications. Remove the custom ad blocker rule(s) and the page will load as expected.
This article is written from a
real world point of view.
| | |
| --- | --- |
| | For the parent company, publisher, and the company that acquired this developer, see Electronic Arts. |
Electronic Arts Los Angeles
Industry

Video game developer

Products

Medal of Honor series
GoldenEye: Rogue Agent
Command & Conquer series
The Lord of the Rings: The Battle for Middle-earth
Boom Blox

Headquarters

Los Angeles, California

Parent company
Electronic Arts Los Angeles (abbreviated EALA) was a game development studio that created Command & Conquer games from 2003 to 2010, as well as the Lord of the Rings: Battle for Middle-Earth franchise.
History
The company started as DreamWorks Interactive in 1996, and was bought and renamed by Electronic Arts in February 2000. EA Pacific and remnants of Westwood Studios were merged along with DreamWorks Interactive into Electronic Arts Los Angeles in January 2003, when Westwood Studios was shut down.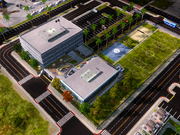 The first move of the reinforced studio was finishing Command & Conquer: Generals, followed by the Zero Hour expansion, which were received quite well among players and modders alike. During the next three years, EALA released two games and one expansion pack of the new Lord of the Rings: Battle for Middle-Earth franchise, based on the SAGE engine used in Generals.
In 2006, a new Command & Conquer game was announced - Command & Conquer 3: Tiberium Wars, and was released in March, 2007. The game was expanded with Kane's Wrath in 2008. Later that year, Command & Conquer: Red Alert 3 was released, but received mixed opinions in the Command & Conquer community - it was both praised for its gameplay that somewhat revolutionized the series, but was also panned for its cartoonish art style. The Uprising expansion came in 2009, along with its console counterpart, Commander's Challenge.
In 2010, EALA released its final game, Command & Conquer 4: Tiberian Twilight, which was widely panned for abandoning the original RTS formula and ending the Tiberium Universe with a poor storyline. EA had been already firing employees before Tiberian Twilight was released, including their Los Angeles branch. EALA was later rebranded as Danger Close and developed first-person shooters in the Medal of Honor series (subsequently closed in 2013 and merged to DICE LA), while the Command & Conquer series was forwarded to Victory Games (subsequently closed in 2013).
Games
As Dreamworks Interactive
Goosebumps: Escape from Horrorland
The Neverhood
Someone's in the Kitchen!
The Lost World: Jurassic Park
Goosebumps: Attack of the Mutant
Dilbert's Desktop Games
Small Soldiers
Small Soldiers: Squad Commander
Trespasser: Jurassic Park
T'ai Fu: Wrath of the Tiger
Warpath: Jurassic Park
Medal of Honor
BoomBots
Medal of Honor: Underground
Clive Barker's Undying
As Electronic Arts Los Angeles
Medal of Honor: Frontline
Medal of Honor: Allied Assault - Spearhead
Medal of Honor: Rising Sun
Medal of Honor: Pacific Assault
Medal of Honor: European Assault
Lord of the Rings: Battle for Middle-Earth
Lord of the Rings: Battle for Middle-Earth II
Lord of the Rings: Battle for Middle-Earth II: Rise of the Witch-King (with Breakaway Games)
Medal of Honor: Vanguard
Medal of Honor: Airborne
Boom Blox
Boom Blox Bash Party
As Danger Close
Medal of Honor
Medal of Honor: Warfighter
External links