Ion cannon control
Talk

1
4,026pages on
this wiki
Ion Cannon Control Center

Ion Cannon Control Center in-game
Unit
Affiliation
Role

Superweapon

Armament

Ion cannon

Protection

Heavy

Tier

3

Properties
Hit points

2000

Production
Cost

$5000

Build time

0:50

Requires
Combat
Ground attack

Lethal (everything)

Attack range

Indefinite

Function
Power

20

Notes

Only one may be built at a time
"
Build an Ion Cannon Control Center to interface with the Ion Cannon
- EVA
"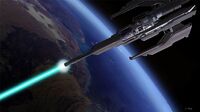 The third-dgeneration Ion Cannon Control Center is a bunkerlike structure that was developed by GDI just before and used during the Third Tiberium War.
The Ion Cannon is a weapon of unprecedented destructive power and far outclasses Nod's nuclear missiles. The first versions were crude and relatively weak, no more than laser scalpels compared to those used in later conflicts. Two dozen exist aboard platforms in medium Earth orbit and are controlled by a sophisticated communication matrix that can fire them in unison at a single location for maximum effect, or target seperate locations for tactical strikes.
Conception
Edit
First developed in the years preceding the First Tiberium War and then used during the conflict, the astronomical power of the Ion Cannon has since become GDI's greatest offensive asset. It fires several beams of concentrated energy that measure only centimeters across but can melt the densest metal, vaporize organic tissue and shatter Tiberium crystals. After that, they spiral in toward the target point and merge into a larger, more powerful beam at the center of the target area before the colliding ions trigger a controlled but extremely violent exothermic reaction with fifty times the power of the bombs that obliterated Hiroshima and Nagasaki.
Deployment
Edit