Home
Talk

114
4,295pages on
this wiki
Command and Conquer Wiki

Established 4 January 2006
---
We are a community that aims to create the best resource for the Command & Conquer series of games. For game-specific content, please select a game portal (all include their respective expansion packs):
---
You may also be interested in our coverage of cancelled games:
Renegade 2, Continuum, Tiberian Incursion, Tiberium, Command & Conquer: Arena, Project Camacho or Command & Conquer (2013).
---
Command & Conquer freeware links:
Tiberian Dawn GDI disc, Tiberian Dawn Nod disc, Red Alert 1 Allied disc, Red Alert 1 Soviet disc, Tiberian Sun package.
Featured article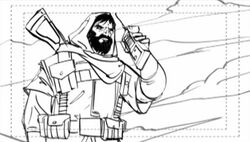 Jarmen Kell (Arabic: ياسين خان) was a highly skilled Arabian sharpshooter in the employ of the GLA during the events of Generals, Zero Hour and Generals 2.
Little is known about him. He is an expert marksman, who approaches his job with cold-blooded, level-headed professionalism and is talented enough to snipe the pilot of any land vehicle, from a truck down to the mighty Chinese Overlord tank. He is also a master of camouflage, who can remain unseen to the enemy, breaking cover only to take the shot. According to several work in progress animations of Generals 2, it is possible that an aged Jarmen Kell would have appeared as a protagonist of the GLA campaign.
[add · more]Recent news
Create blog post
News
Greetings, wiki lovers.

It has come to our attention that many Tiberian Dawn articles have Renegade images and data. Although they are, by canon, concurrent, they are completely different and related …

Read more >
See more >