The damage is too extensive!

Photon rocket swarm-pod has been marked for cleanup.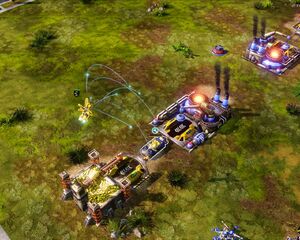 Swarm Pods are the main weapons used by the Imperial Rocket Angels. These rockets are accurate and effective against all types of Vehicles and Aircraft but not so efficient against infantry unless the infantry doesn't retaliate. The warheads of these rockets are loaded with a chemical substance that undergoes a reaction with oxygen that causes significant LASER effect, causing damage to the target contacted. The chemical reaction is optimized for maximum by a micro-computer, so, understandably, there is no actual evidence of long-range lasing that is visible-except to the oft-doomed target, that is.
The Rocket Angel may switch to the Paralysis whip which can disable any surface target in its tracks.
Ad blocker interference detected!
Wikia is a free-to-use site that makes money from advertising. We have a modified experience for viewers using ad blockers

Wikia is not accessible if you've made further modifications. Remove the custom ad blocker rule(s) and the page will load as expected.