Chevrolet Task Force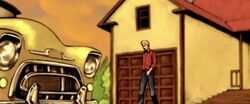 Pierce walks towards his truck
Pierce's truck is a Chevrolet Task Force that somehow survived until 2064.
Background
The original Task Force pickup trucks were produced from 1955 to 1959. It is unknown how Pierce got his truck, but it's possible that the automotive industry had a period of retro design, where they produced updated versions of old classics.
References
Ad blocker interference detected!
Wikia is a free-to-use site that makes money from advertising. We have a modified experience for viewers using ad blockers

Wikia is not accessible if you've made further modifications. Remove the custom ad blocker rule(s) and the page will load as expected.