Psionic decimator
Talk

1
4,020pages on
this wiki
Psionic Decimator
Unit
Affiliation
Role

Ultimate Weapon

Production
Cost

¥ 5000

Build time

1:00

Requires
Combat
Attack range

∞ Within map area

Function
Produces

Psionic Blast

Abilities

Decimates specified area with Psionic Blast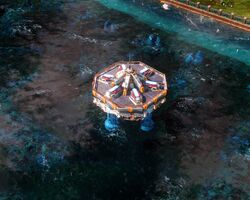 "
The Soviets that defend the Time Machine must perish at all costs. You now have access to construct the most destructive weapon in the Empire arsenal - the Psionic Decimator.
- Suki, introducing the Decimator
"
Recent intel surveillance has revealed and confirmed our worst fears: the Empire of the Rising Sun has possession of the Psionic Decimator that, when unleashed, creates a psionic storm, capable of damaging everything within a large radius, equal to that of the Allied Proton Collider. Further information, including its appearance, is unknown yet, except that it is the result of Empire's research on psionics. Destruction of this Imperial Superweapon is highly and immediately recommended before it is activated.
The name of Psionic Decimator is similar to Yuri's Psychic Dominator, however the Imperial device most likely couldn't unleash anywhere near the amount of mental energy when used strategically, as if they were possessing of such firepower it would have been used immediately.
If one looks at the Decimator carefully, its chambers contain what appears to be clones of Yuriko, presumably giving this superweapon its Psionic power. It is rumored that these clones are the end result of Imperial psionics/genetic research out of Yuriko Omega, starting with Shiro Sanitarium.
"
Warning: a Psionic Decimator has been detected!
- Eva/Dasha/Suki, AI warning Decimator presence
"
"
Destiny has granted me many years! And now, I will await here, in my base- and decimate you from afar!
- Shinzo Nagama, confident about his Psionic Decimator
"
In Forever Sets the Sun, Tatsu used 3 installations of it to try and eliminate Lissette and the Allied Commander, but failed because the Allied ConYards survived the blast (if Allied units moved far away from their bases, they could also avoid the superweapon's destruction, albeit they lost half of their health).
In the Imperial Campaign, the Decimator was used to assist the Shogun Executioner in wreaking havoc and laying waste to Moscow. Later, it was deployed in Amsterdam to destroy the Allies and Soviets based around the FutureTech Lab.
In the Soviet Campaign
, the Decimator was not used due to the Soviets' unexpected attack on Mt. Fuji. Recent intel may suggest that Tatsu could not authorize his construction to the Imperial Commanders or either to his father (reasons are yet unknown).