Tesla Trooper

Tesla Troopers attacking an Imperial Expander in skirmish
Unit
Affiliation

Soviet

Role

Advanced AG Unit

Armament

Tesla Gun

Tier

1

Properties
Armour type

Medium

Amphibious

100 % NO

Production
Cost

450

Build time

Few Seconds

Produced by

Barracks

Combat
Ground attack

Powerful

Speed

Slow

Attack range

High

Function
Elite upgrade

Self-Healing
Prepping blueprints for expansion...

Tesla trooper (Red Alert iPhone)

is a stub and needs your help. You can help by

expanding it

.

Please refer to the

talk page

for further discussion.
After the Psychic Dominator Disaster, the Soviets introduced a new design of their Tesla trooper. It was more powerful than the old version, but more vulnerable to tanks as it could be crushed by them.
They allies had a "counterpart" of this unit, the Legionnaire.
After the Soviet time travel, the new Tesla troopers had a similar design to this one but had far better armor and could use a secondary ability to block vehicles and they could not be crushed by tier 1 and 2 vehicles.
History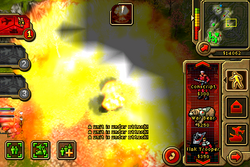 After the war with Yuri, the Soviets have decided to remove some of the armor of the Tesla Trooper. As a result, They are cheaper than the previous one. However, they can no longer charge Tesla Coils and they are vulnerable to all Anti-Infantry weapons.
After Cherdenko 's trip to 1927, the Tesla troopers were modified and were able to charge Tesla Coils and were uncrushable again.
Game Unit
The Tesla troopers fired powerful Tesla bolts that could decimate almost every unit. Like other infantry, it was vulnerable to tanks, infantry, aircraft with AG capability and superweapons - especially the atomic bomb.
Ad blocker interference detected!
Wikia is a free-to-use site that makes money from advertising. We have a modified experience for viewers using ad blockers

Wikia is not accessible if you've made further modifications. Remove the custom ad blocker rule(s) and the page will load as expected.