This article is written from a
real world point of view.
The Command &
Conquer Collection
Developer
Westwood Studios
Publisher
Electronic Arts
Release Date
14 October 2003
Genre
Real-time strategy
FPS/TPS (Renegade)
Ratings
ESRB: T
PEGI: 12
Platforms
Windows
The Command & Conquer Collection (known as Command & Conquer: Combat Pack in France, Belgium and the Netherlands) is a compilation composed of all C&C games created between 1999 and 2002, with a bonus Generals demo. The games included are:
French/Belgian/Dutch release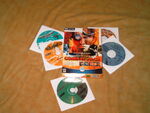 The C&C Combat Pack release comes with all manuals being on separate discs instead of being bundled with the Prima guides and Generals demo on a single CD.
Ad blocker interference detected!
Wikia is a free-to-use site that makes money from advertising. We have a modified experience for viewers using ad blockers

Wikia is not accessible if you've made further modifications. Remove the custom ad blocker rule(s) and the page will load as expected.