Command & Conquer: Tiberium Alliances
Talk

18
4,021pages on
this wiki

This article is written from
a real world point of view.
Command & Conquer: Tiberium Alliances is a free-to-play browser game developed by EA Phenomic. It is set in the Third Tiberium War era, with some aerial units taken from Command & Conquer 4: Tiberian Twilight.
Development
Edit
Tiberium Alliances was unofficially revealed on December 13th, 2011 by the French C&C fansite CnCSaga.com, after EA had registered several Internet domains with the word "Alliances" on December 2nd. The official trailer was released a day later.
As of December 15th, 2011, people could sign up for the closed beta testing. EA gave codes through e-mail, but sometimes gave codes that could be used from 20 to 1000 times via Twitter. Some fansites were also giving codes via contests under EA's authorization.
On December 18th, EA Phenomic confirmed that Tiberium Alliances will be available in more languages on their official Twitter profile.
On January 28th, 2012, the Russian gaming portal Igromania made a video showcasing Tiberium Alliances and interviewing some of its creators. It was confirmed that the Forgotten will be a neutral and unplayable faction, as they cover most of the map and 90% of the battles are expected to be against them. [1]
On March 14th, 2012, EA transferred Tiberium Alliances from closed to open beta, lifting the NDA policy and uploading a new trailer. As of May 10th, 2012, Nod is available to play on the former closed beta servers. Along with maintenance downtimes, Nod gameplay was spread on other servers as well.
The game went gold on May 24th, 2012, shortly after opening servers for nine more languages. As of July 2012, Tiberium Alliances counts more than a million players.
Storyline
Edit
The game is set between the Third and Fourth Tiberium Wars, but no main story will ever be included, as Phenomic considers Tiberium Alliances a game where the players create their own story by forming alliances and fighting others.
Controversy
Edit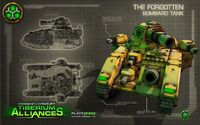 EA Phenomic was criticized for plagiarizing certain Warhammer universe tanks (Ork Bonecruncha and the Imperial Guard Baneblade respectively) with the Forgotten Bombard and Grinder tanks due to their designs being completely copied and merely retextured. EA Phenomic later stated that the tanks in question will be redesigned. [2]
External links
Edit
Official website
Official Facebook page
Official Twitter
References
Edit
↑ Оперативный репортаж с EA Showcase, часть 1. Igromania.ru (January 27th, 2012). Retrieved on 2012-01-28.
↑ EA Says Warhammer-Looking Tanks Won't Show Up in Command & Conquer After All. Kotaku.com (April 14th, 2012). Retrieved on 2012-04-14.